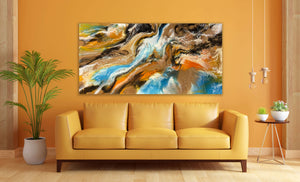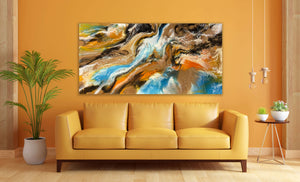 Original Resin Art by Anja
Anja's custom resin art paintings are tuned to the positive energy in a space and will enhance your room with the right colors. Book Anja for a one-of-a-kind commission piece or choose a painting from her current collection.
"Anja's paintings add a distinct energy and a different level of uniqueness to my home. Her intuition really captured my essence of past, present, and future. She is truly amazing, professional, and her energy is infectious."
"Anja changed the way I think about art. Her passion to compile and capture a vision showed me a new appreciation for her craft. Thank you Anja!!!"
"Anja's art consultation is unique and very professional. She is beyond passionate about her work and designing a personal piece. I love my painting! Anja captured my dreams of ocean waves. Such beautiful colors and sparkle."
Phone and Tablet Cases
With Anja's snap-on phone and tablet case collection featuring her signature resin designs, she explores the strength and power of the five elements. Make your devices your best stylish accessories with any of these stunning designs. All cases have a glossy finish for a true resin art feel.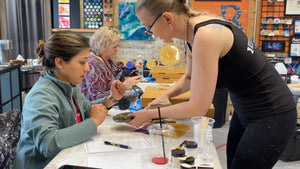 Resin Coasters and Tray Workshop
Host a Workshop in Your City
Anja is available for national and international travel to bring her workshops to your home city. Please contact her for further details.
Online Resin Art Workshop
This 4-hour workshop will teach you all the fundamentals and basic knowledge for creating resin art. Anja's class is designed to provide you with all the techniques and insights necessary to create your own resin artwork once finished with the curriculum.
Skill Level: All
Enroll Now