Workshops
With live workshops, custom classes, and online courses, there's something for everyone.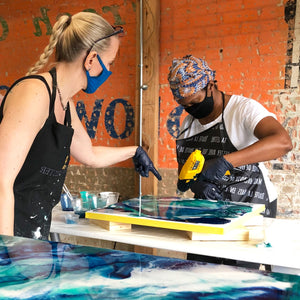 Live Workshops
Anja offers a variety of resin art, acrylic flow, beauty makeup, bodypaint, and headdress design classes from her studio in Dallas, TX.
All of her workshops are designed to provide you with the techniques and insights necessary to create your own artwork. Leave her classes feeling empowered, confident, and excited to apply what you have learned.
For a list of current workshops, more details on each class, and to reserve your seat, please visit her Eventbrite page.
Book now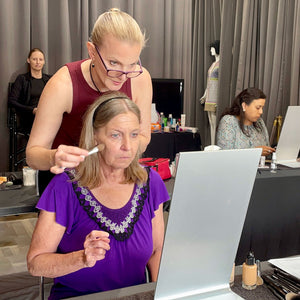 Custom Classes
For a more personalized experience, contact Anja to schedule a 1-on-1 training session or a private group class for you and your friends.
Anja also offers corporate team building classes in accordance with your company's goals. She will customize each workshop to your requirements.
Her studio space provides a creative and encouraging atmosphere to promote free exploration and communication. Please contact Anja for a complimentary consultation.
Contact Anja
Host a Workshop in Your City
Anja is available for national and international travel to bring her workshops to your home city. Please contact her for further details.
Online Courses
To provide greater access to her headdress design, body paint, beauty makeup, and resin art classes, Anja created her online art school. With options for every budget, you can choose between a 30-day, 1-year, or lifetime access to the instructional materials.
Each online class includes downloadable info sheets, product links, videos, and notes that provide a detailed, easy-to-follow and well-organized learning experience. Q&A support and assistance is available via email so you can get in touch with Anja at any point in the curriculum.
Enroll now
"As your art mentor and instructor, I'm here to help you succeed."
Take a sneak peek at Anja's classes