Headdress Materials Kits
Anja offers custom designed materials kits for her on-demand online workshops. These kits are available for her headdress base course as well as for her decoration classes. Save time and money by purchasing all the materials in one place.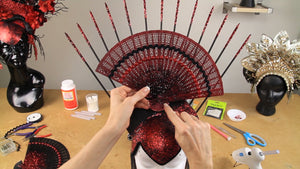 Online Headdress Workshops
Learning a new craft from the comfort of your home has never been easier with Anja's on-demand online workshops. Learn how to make a headdress base from scratch and how to decorate it while following detailed step-by-step instrustions.
Live Headdress Workshops
For a more hands-on training, Anja offers headdress workshops for different skill levels from her studio in Dallas, TX. She is also available for national and international travel to bring her workshops to your home city.