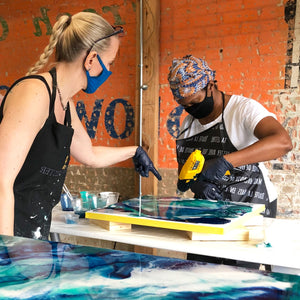 Live Resin Art Workshops
Learn how to pour like a pro by taking Anja's beginner's and advanced classes. Her workshops are hosted in the creative and encouraging atmosphere of her studio in Dallas, TX. Leave her classes feeling empowered, confident, and excited to apply what you have learned.
Online Resin Art Workshops
In Anja's 4-hour on-demand online workshop she will teach you all the fundamentals and basic knowledge for creating resin art. Her class is designed to provide you with all the techniques and insights necessary to create your own resin artwork once finished with the curriculum.